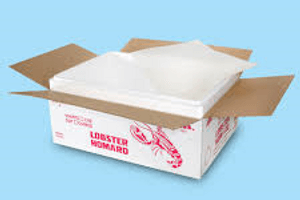 We have airplane approved styrofoam container encased in cardboard.
Call us and we can arrange shipping...(709) 722-9692.
The Fish Depot can package the product of your choice and deliver it to the St. John's International Airport, (packaging container and shipping fees are a seperate cost). So why not order some Newfoundland famous Cod, Lobster, Shrimp, Scallops, Salt Cod from the cold icy North Atlantic waters. Or anything of your choice for yourself or a loved one. Newfoundland Seafood is especially great for birthday parties, private parties, or for business parties. Employees love this special treat! Why not eat the best the sea has to offer?
We can package and deliver your seafood products to the St. John's International Airport and you pick up at your nearest airport. This is a fast and easy way to enjoy delicious fresh Newfoundland seafood. Newfoundland Lobster or Cod would be a hit at your next function, and don't forget, seafood is a healty option.
888 Griffiths Way,
Mainland ML12345
888 Griffiths Way,
Mainland ML12345